The how and why of increasing women's safety in India
Posted by Admin on February 15, 2017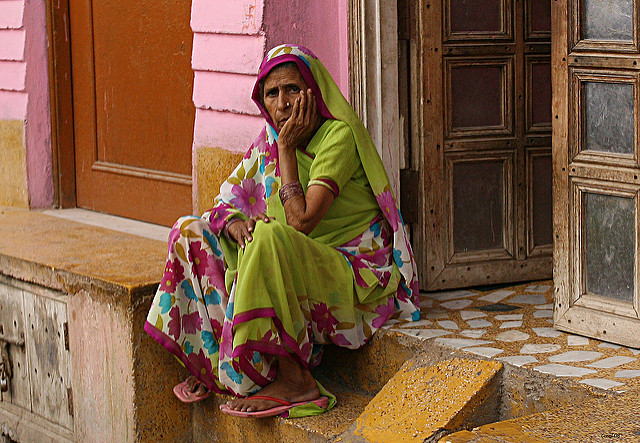 Woman in Vrindavan. Image by Carol Mitchell (used under CC license)
It's no secret that we need more women in the workforce. It's not just the morally right thing to do, but it makes perfect economic sense, too.
Here's the evidence: a report by McKinsey Global Institute (MGI), titled "The Power of Parity"declares thatadvancing women's equality can add$12 trillion to global growth (that translates to an 11% addition to the global annual GDP by 2025).
Let's turn to the corporate sector. A report by MSCI, the US-based financial index provider, states that:
1. Companies with women directors outperform peers financially by 38%.
2. Investors benefit when a company has more women on its board of directors.
3. Companies with a strong female influence on their boards performed 36% better in terms of return on equity than those that didn't.
These numbers reveal the current quantitative loss of GDP we are incurring globally because women are not entering the workforce.
However, before women can step into the workspace and participate more fully in increasing the country's economic output, we need to talk about the elephant in the room: the fact that India ranks 136th out of 144 countries in terms of economic participation and opportunity (as per the Global Gap Index, 2016, of the World Economic Forum) and the fact that violence against women (VAW) is on the rise in our country (as per data from the National Crime Records Bureau, or NCRB).
So now the big question is: how do we achieve this desirable level of security so that it acts as a catalytic pull factor to make lives better for women and encourage their social and economic empowerment?
I've grappled with this exact question in my day-to-day work. As a woman police officer, it is both a professional challenge and a personal passion for me to work for the security and dignity of women and girls. This is because I believe that security, safety and dignity of women is a critical infrastructural input for the economic development and well-being of any society.
I head the Mahila Samman Prakoshth, an innovative police initiative to promote women's empowerment in Uttar Pradesh, India's most populous state. Here are some of the security solutions we have designed and implemented through 9 verticals under "Gender-responsive Community Policing":
Leveraging Digital Technology to Give Women Direct Access to the Criminal Justice System: How do you punish VAW if women are afraid to report it? In over three decades of service, I have time and again experienced the cruel reality that many women are still reluctant to go to police stations to report violence. This is why we designed a web portal called VIKALP, which brings the police to the doorstep of the complainant/victim. Women can access the portal from the privacy of their homes. Once a complaint comes in, VIKALP ensures that the concerned local police respond within 24 hours and the complaint remains open until the complainant expresses satisfaction with the police action.
Thousands of women are taking advantage of the convenience of VIKALP and the unprecedented police accountability it brings about. Most promising is the fact that nearly 48% of VIKALP's users are from far-flung rural areas of UP, such as Hamirpur. This trend is a matter of great pride for the organization, as we are serving women in areas where they have historically been underserved.
"Re-Training" the Police Force: The police in India as a whole is overworked and under-resourced. This is why I partnered with UNICEF and ActionAid to design a gender-sensitive training protocol called NAV CHETNA. Through this intervention, we have trained over 8,000 police officers ofvarious ranks regarding the finer points about the latest laws passed to protect women and children. We also train them to better handle sensitive cases, respond to domestic violence, deal with cases involving minors, and many other aspects of VAW. The impact analysis of these workshops reveals that police officers have better knowledge about gender-related issues in general, and legal provisions in particular, after going through NAV CHETNA training. They also feel personally more involved in women's security.
Legal Literacy and Generating Awareness about Crimes against Women:In a lot of cases like domestic violence, there are entrenched social norms that blind both men and women to the fact that this kind of violence inside the home is a serious crime. In many cases, stalkers have said that they have seen women being stalked in films and assumed that it was acceptable behavior. While such offenders should rightly be punished, such a response also points to an underlying problem which we need to address.
Therefore, I started ADHIKAR, an intensive public campaign to teach women, and the men around them, about crimes like domestic violence, cyberstalking, harassment, etc. Through posters, handbills, standees in public spaces, publications, public discussions, reports, radio and television programs, the media and our website, we have reached out to lakhs of citizens. This has boosted awareness of legal rights as well as the penalties for violating the rights of others.
I hope that other police departments, public policy experts and NGOs can build on our efforts, and use our models to develop their own. The more we share about what works to make women and girls safer, the faster we will move towards equality.
As for me personally, I am always open to sharing more and learning more, so please feel free to connect with me at @SutapaSanyal. Together we can, and we will, end violence against women.
Sutapa Sanyal is an IPS officer, currently serving as Director General, UP Police Mahila Samman Prakoshth, the State Human Rights Commission and Civil Defence. She has also been appointed to the National Police Micro Mission 07 on gender-related issues. The views expressed here are personal.